Even factoring in the flash crash on the weekend, Ethereum is still up by approximately 60% in the past two weeks.
ETH is printing a reversal sign after this extremely strong rally, per a Telegram channel tracking certain technical analysis signals.
The signal predicts that Ethereum will undergo a bearish reversal in the coming days.
ETH may be saved by a drop by Bitcoin bulls, which should drive the overall direction of the crypto market.
BTC is showing signs it wants to move higher in spite of the weekend flash crash, which saw the asset rejected at a pivotal level.
Ethereum Prints Harrowing Reversal Sign Once Again
A Telegram channel tracking instances of Tom Demark Sequential signals just reported that Ethereum is printing bearish reversal signals.
The channel published the chart below on August 5th, noting that Ethereum has formed "sell 9 + C-13" candlesticks on its daily chart.  Per the Tom Demark Sequential, ETH should undergo a correction in the coming days should the indicator classically play out.
Chart of ETH's price action with Tom Demark Sequential overlay over the past six weeks from TradingView.com. Chart by Telegram channel tracking TD Sequential
All Eyes on Bitcoin
Although Ethereum may be printing a reversal signal in isolation, at the end of the day, Bitcoin's directionality is all that matters. All cryptocurrencies, after all, are closely tied to the price action of BTC on a macro scale.
Fortunately for ETH bulls, analysts are currently expecting more upside for the price of BTC.
According to Bloomberg, technicals are printing signs that Bitcoin is primed to move higher after last week's break of $10,000. Matt Maley, the chief market strategist for Miller Tabak + Co, told the outlet
"The break above $10,000 is very compelling and should lead Bitcoin higher… It might be able to work off this condition with a sideways correction, but its upside potential is limited over the next week or two."
Bloomberg also added that per the "Trading Envelope indicator," Bitcoin is reaching the upper level of its technical range. This is purportedly a "positive development."
Santiment, a blockchain analytics firm, recently indicated that Bitcoin is likely to soon see volatility in the upward direction. As reported by Bitcoinist, the company wrote in reference to the chart  below:
"$BTC has just indicated that the 3rd largest token age consumed spike since April has taken place today, indicating a potential short/mid-term price direction change and increased volatility… More likely to the upside than down, because this indicator more often than not foreshadows short-term to mid-term price reversals."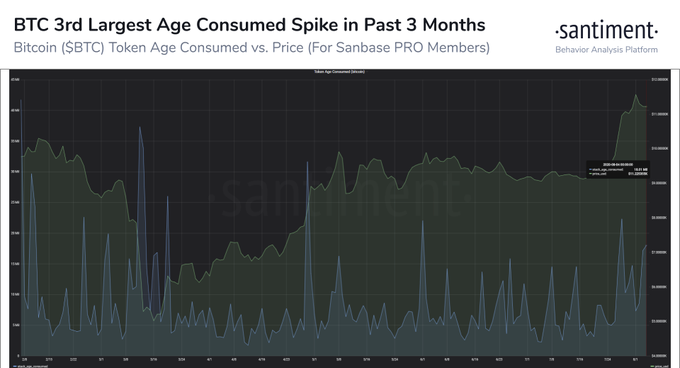 Chart of the token age consumed metric for BItcoin over the past few months with price action from Santiment, a blockchain analytics firm.
To what extent Ethereum will track Bitcoin's seemingly upcoming rally isn't clear. But assuming that it takes the same route as it has over the past few weeks, ETH will outpace BTC.
Featured Image from Shutterstock
Price tags: ethusd, ethbtc
Charts from TradingView.com
After Surging 60% in Two Weeks, Ethereum Just Printed a Reversal Sign