A new year rally on the first weekend of 2021 accelerated on Sunday as top cryptoassets keep grinding higher, with bitcoin (BTC) jumping above USD 34,000 and ethereum (ETH) surpassing USD 800 for the first time since May 2018.
At the time of writing (09:20 UTC), BTC trades at USD 34,135 and is up by 14.5% in a day and 23% in a week. The price rallied by 77% in a month and 367% in a year.
BTC price chart: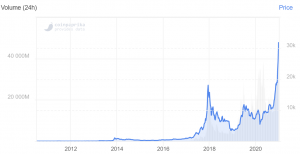 At the same time, ETH reached USD 819 and is up by 11% in a day and 27% in a week. It jumped by 32% in a month and 502% in a year.
XRP is still in red, trading at USD 0.22, or 3% lower than yesterday and 24% lower than a week ago.
Meanwhile, BTC trading volume hit USD 63bn (it was around USD 30bn on the average in the past month) in the past 24 hours, compared with ETH's USD 19bn. BTC dominance, or the percentage of the total market capitalization, almost reached 72%, compared with 70.6% a day ago.
Other coins from the top 10 club are up by 3%-14% today.
Also, today is the 12th anniversary of the first block in the Bitcoin blockchain mined, also known as the Genesis block.
As reported, BTC "will be on the road to USD 50,000 probably in the first quarter of 2021," Antoni Trenchev, Managing Partner and Bo-founder of major crypto lender Nexo, told Bloomberg.
"When any asset climbs in price this fast for an extended period of time I become cautious, and I'd urge anyone trading BTC to not get caught up in the euphoria," Nicholas Pelecanos, head of trading at NEM, told CNN. However, he predicts bitcoin could rise to USD 50,000 by Valentine's Day. "I believe we are just at the beginning of what will be an immense bull market."
"It's very likely that the asset will eventually pass USD 100,000 per coin," Sergey Nazarov, Co-founder of Chainlink (LINK) wrote in an email to Reuters. "People have been steadily losing faith in their government currencies for years, and the monetary policies resulting from the economic impact of the coronavirus have only accelerated this decline."
Also as reported, only BTC 4.2m (22%) are currently in constant circulation and available for buying and selling. However, it also estimated that, in 2021, the aggregated BTC exchange balance will rise as more holders seek to realize profits or to trade other cryptocurrencies.
BTC inflows to exchanges: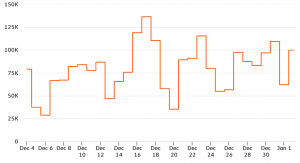 Meanwhile, the interest in BTC keeps rising, according to Google data.
_____
Learn more:
Bitcoin Wheel Cannot Be Stopped
Bitcoin, Ethereum, XRP, Bitcoin Cash, Litecoin, Chainlink Price Predictions for 2021
Crypto in 2021: Bitcoin To Ride The Same Wave Of Macroeconomic Problems
Crypto Adoption in 2021: Bitcoin Rules, Ethereum Grows & Faces Rivals
Crypto in 2021: Institutions Prefer Bitcoin, Retail Open to Altcoins
Corporate Treasuries Caught Between an Inflation Rock and Bitcoin
___
Reactions:
Testing one of the most important resistance levels for Ethereum.

— yTedd (@TeddyCleps)
This is insane. Looking at this chart, you can clearly see that since mid March, the #bitcoin outflows from exchang… https://t.co/NuS3tjgo4f

— Blackbeard (@crypto_blkbeard)
We'll never see $20k BTC again.

— Willy Woo (@woonomic)
Should thank Jerome Powell for this. pic.twitter.com/YdJ6Uux6lf

— Alex Krüger (@krugermacro) January 3, 2021
I can't believe when I went on holiday two weeks ago price was $15,000 lower than where it is right now.

— Nik Patel (@cointradernik)
Happy Genesis Day! Never forget what #Bitcoin is really about.

— Samson Mow (@Excellion)