Like Bitcoin, Ethereum was pushing higher from last week's lows, at least until the past few hours. In the span of about 30 minutes earlier today, the leading cryptocurrency dropped from $355 or so to $344, marking a small yet notable drop.
This weakness and continued inability to surmount the resistances at $365-375 in the near term is sparking fears of a deeper drop.
Ethereum Drop Triggers Fears of a Steeper Correction
Michael Van De Poppe, a crypto analyst and a trader at the Amsterdam Stock Exchange, recently said that he fears a move under $300 in the near future.
Van De Poppe recently shared the chart below, which shows that the cryptocurrency remains below the aforementioned resistance. This may trigger a drop towards the local lows at $315, then even lower into the $250-280 range. He elaborated:
"$ETH #ETHEREUM Further downwards momentum to expect here. The crucial area that I'll be interested in is $250-280. Since a while, actually." 
Chart of ETH's price action over the past few months with an analysis by crypto trader Michael Van De Poppe (@Cryptomichnl on Twitter). 
Chart from TradingView.com
His concern has been echoed by another trader. This other trader said that unless Ethereum reclaims $360 in the near future, it is not in bullish short-term standing. He added that the cryptocurrency could drop as low as $280 in the coming weeks.
Social Trends Suggest Now Is a Good Buying Opportunity
Despite this weakness in ETH's price, social media trends purportedly indicate that now is a good buying opportunity.
Santiment, a blockchain analytics firm, reported just recently that social media mentions of Ethereum are reaching six-month lows. This comes as the DeFi space has rapidly slowed down as ETH's price has dropped.
While this may seem bearish, Santiment believes that this indicates that now may be a good time to enter an Ethereum position.
The firm commented on the matter:
"The social volume of #Ethereum is nearing 6-month low levels across social discourse platforms as traders look elsewhere for volatility to trade. However, assets like $ETH typically see the biggest buy opportunities when crowds are disinterested."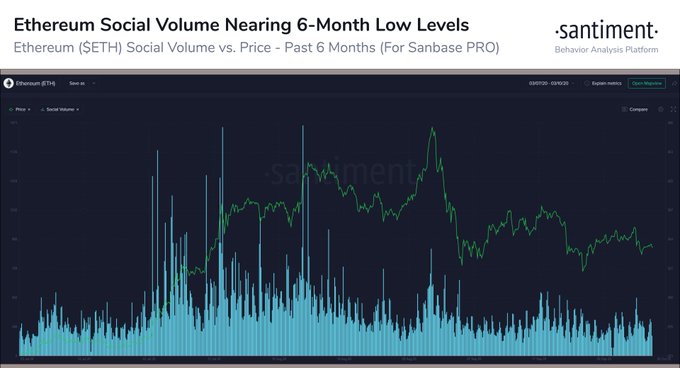 Chart of ETH's price action over the past few months with a social volume analysis by crypto research and data firm Santiment (@Santimentfeed on Twitter)
Other data indicates that ETH traders are currently overwhelmingly bearish on the coin. As reported by Bitcoinist previously, data shows that the funding rates of the ETH future market on Binance is currently negative, which only takes place from 3-5% of the time.
Counterintuitively, this may suggest that Ethereum may soon move higher. Negative funding rates in consolidation are indicative of a market that has the potential to move higher.
Photo by arash payam on Unsplash
Price tags: ethusd, ethbtc
Charts from TradingView.com
Sorry Bulls: Ethereum Expected to Drop Towards $300 as Rally Weakens