The dotmoovs (MOOV) cryptocurrency soared in value on 1 April as the project's developers made several announcements, with move-to-earn (M2E) apps gaining momentum. The MOOV/USD price soared by as much as 100% in one day, although the it has since fallen.
Much like play-to-earn blockchain-based games, move-to-earn apps reward users for participation in activities and challenges. So, what is dotmoovs crypto and how does it work? 
In this article, we look at the latest dotmoovs coin news and some forecasts for now the coin could perform.
Dotmoovs rewards athletes with crypto
The Dotmoovs app enables users to record their sports activity and compete with other people around the world using their smartphone camera.
The project launched in 2021 in response to the Covid-19 pandemic. The Dotmoovs blog stated:
"Competing remotely has never been more of a need. Covid-19 has stopped a number of competitions and people are already engaging and competing with other athletes through videos sent on Whatsapp. The current pandemic augmented the need for people to challenge others at distance through digital-enabled products."
Dotmoovs aims to provide a way to accurately assess each athlete's performance and properly compare them wherever they are in the world.
The MOOV coin launched in June last year. The app had a soft launch on 14 October for 1,000 users.
Participants can invest in themselves, win competitions and earn MOOV coins and non-fungible tokens (NFTs) by participating in challenges, moving up in the rankings and completing milestones. Dotmoovs features an artificial intelligence (AI) based video referee to assess users' performance. Users can also unlock MOOV rewards by staking their tokens or providing liquidity.
"We started by developing our proprietary artificial intelligence system, some advanced computer vision algorithms and an arbitration engine that detects the human body and its various limbs positions, followed by a scoring algorithm to measure the player's skill," according to the project's website. The technology includes fraud detection algorithms to monitor practice sessions and challenges.
Dotmoovs launched its own cryptocurrency token, MOOV, to provide a way to reward competitors everywhere in the world without the constraints of currency exchange and fees. MOOV is used for all the transactions in the app. Athletes can use MOOV to compete against others, practice and participate in challenges. They can also use it to buy, sell or rent NFTs as well as merchandise and other collectibles. And they can stake MOOV to earn more coins.
The NFTs form part of the gamification of sports through the app. The first NFT collections are utility-driven images of footballs used for the first sport in the app.
Dotmoovs introduced NFT renting to the app towards the end of last year based on a profit-sharing model. This enables users to participate without having to buy an NFT from the start. The NFT owner, known as a Sports Manager, decides the number of games the renter can use the NFT for and what share of the profits they want as well as the time limit for the rental so that they receive it back.
In the future, the app will introduce fixed renting for a specific time, with rental price set by the Sports Manager, as well as direct renting to specific players for a set number of days and price.
The MOOV token has a total supply of one billion, distributed as follows:
32% allocated to strategic investors

24% to provide liquidity on exchanges

24% for ecosystem development through marketing, partnerships and exchange listings

10% allocated to a reserve pool to support long-term growth

10% allocated to founders and team members
The Dotmoovs developers made several updates to the app in February, including an upgrade to the AI precision to enhance the user experience, the release of a social feed and chat feature, and a partnership with Moonpay to allow users to deposit fiat currency in the app directly.
On 28 March, the CEO and chief operating officer announced that the launch of dance challenges in the app was delayed by a month to coincide with International Dance Day on 29 April.
But the MOOV coin, which traded at $0.005783 in mid-June 2021, soared from $0.006898 on 29 March to a high of $0.09464 on 1 April, for a gain of 1,500% since the launch, according to the price chart. Dotmoovs introduced its Maradona challenge, inspired by Argentine footballer Diego Maradona. It also announced a partnership with Exeedme, which provides revenue streams for gamers to sponsor an event by DeNItes, which showcases Web3 projects.
The MOOV token launched on Bitrue on 2 April.
The MOOV token price has fallen to $0.03.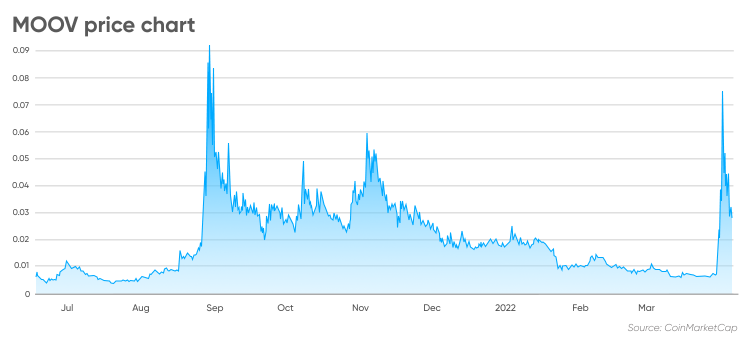 What is the outlook for the price in the coming months and years? We look at the latest expectations from forecast sites.
Dotmoovs (MOOV) price prediction: Сan it move to new highs?
With the MOOV price retreating from the 1 April high, sentiment was bearish at the time of writing on 5 April, according to technical analysis by CoinCodex. There were 12 indicators showing 'sell' signals compared with 11 bullish signals, the data showed. CoinCodex's dotmoovs price prediction indicated the coin could rise to $0.0399 by 10 April.
The MOOV price prediction from algorithm-based forecast site Wallet Investor indicated that the price could remain relatively stable over the next three years, trading around $0.0325 by the end of this year and $0.02062 by the end of 2023. The dotmoovs prediction showed that the coin could move back up to $0.00321 by the end of 2025, but by April 2027, could drop to $0.00119.
DigitalCoin's dotmoovs crypto price prediction was more positive, expecting the coin to gradually trend higher over the coming years. Based on historical data, the projection showed that the MOOV price could average $0.0378 in 2022 and $0.0416 in 2023, rising to $0.0541 in 2025 and $0.13 in 2030.
PricePrediction expected the price to fall in the short term but rise towards the end of the decade in its MOOV forecast. Based on deep artificial intelligence-assisted technical analysis, the site's MOOV prediction indicated the coin could average $0.009 and move up to $0.013 in 2023, reaching $0.16 by 2030.
By contrast, Gov Capital was bearish on the long-term future of the coin in its MOOV crypto price prediction. The site's deep learning technical analysis predicted that the price could slide to $0.0199 by the end of 2022 and $0.0112 by the end of 2023, dropping to zero in May 2024.
When evaluating a dotmoovs coin price prediction, it's important to keep in mind that cryptocurrency markets remain extremely volatile, making it difficult to accurately predict what a coin's price will be in a few hours, and even harder to give long-term estimates. As such, analysts and algorithm-based forecasters can and do get their predictions wrong.
If you are considering investing in cryptocurrency tokens, we recommend that you always do your own research. Look at the latest market trends, news, technical and fundamental analysis, and expert opinion before making any investment decision. Keep in mind that past performance is no guarantee of future returns.
FAQs
The most bullish forecasts at the time of writing from DigitalCoin and PricePrediction indicated the MOOV coin could surpass the previous high and average $0.13 or $0.16, respectively, by 2030. 
You should keep in mind that cryptocurrency prices are highly volatile and difficult to predict accurately. Forecasters can and do get their predictions wrong. You should do your own research to make informed trading decisions. Keep in mind that past performance is no guarantee of future returns.
At the time of writing, forecasts for the dotmoovs cryptocurrency price in 2025 varied between $0.00321 from WalletInvestor and $0.0541 from DigitalCoin, whereas Gov Capital projected that the coin could fail in 2024. 
You should keep in mind that cryptocurrency prices are highly volatile and difficult to predict accurately. Forecasters can and do get their predictions wrong. You should do your own research to make informed trading decisions. Keep in mind that past performance is no guarantee of future returns.

Credit: Source link