Once XRP mechanism receives smart contract functionality, its tokenomics will be reorganized with Spark collateral system
Increasing demand, reducing supply
DeFi on XRP will make it a game-changing instrument
Shane Nixon, investing veteran and hedge fund manager, has clarified how the design of XRP tokenomics will look after the activation of Flare "utility fork."
Increasing demand, reducing supply
Mr. Nixon shared his views on all aspects of the sophisticated tokenomic system that will include XRP, FXRP (an asset on the Flare platform, pegged 1:1 to XRP) and Spark (native collateral asset of the system).
2/6

c) Spark must be held as collateral on the system based on a formula when used by FXRP and can't be removed until the transaction is complete…more transactions =more sticky collateral

d) XRP appreciation or Spark depreciation results in a new XRP/Spark ratio requiring


— shane nixon (@shanenixon11) August 20, 2020
Initially, XRP holders will be gifted Spark tokens 1:1. Then, the circulating Spark supply will be reduced by "collateral reservation fees," as well as by the amount of Spark the users would lock for "staking." Spark will act as collateral that will economically incentivize XRP users to transact in a fair manner, since:
Redemption failure results in both 1% compensation fee in Spark to the party that was to be paid out AND a penalty fee to the Agent/XRP/Spark holder which is substantial.
XRP will be utilized as a reward for "transaction creation." Instead, the supply of Spark will decline due to periodical "burning" events.
In a nutshell, this tokenomical design will guarantee the sustained increase of interest in Spark tokens accompanied by a reduction of its supply.
DeFi on XRP will make it a game-changing instrument
XRP rewards would be one more incentive for the participants of the post-fork FXRP mechanism, Mr. Nixon concluded. He also announced that bringing smart contracts functionality into XRP will be revolutionary:
Combining Defi/smart contracts with #xrp and interoperability could be a game changer.
As covered by CryptoComes previously, Flare Network—the operator of XRP—describes the upcoming upgrade as an "utility fork" for XRP transactions.
👉 MUST READ
XRP May Receive Smart Contract Platform, Utility Fork Conditions Disclosed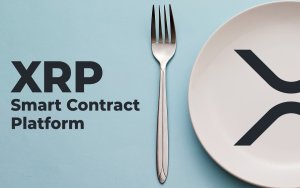 Once it is activated, a protocol for the issuance of XRP tokens on Flare, dubbed FXRP, will bring smart contracts to XRP through Flare's patented Turing complete Federated Byzantine Agreement (FBA) algorithm.

Vladislav Sopov
Blockchain Analyst & Writer with scientific background. 5+ years in IT-analytics, 2+ years in blockchain.
Worked in independent analysis as well as in start-ups (Swap.online, Monoreto, Attic Lab etc.)