Over the past 24 hours, many facets of the altcoin market have ripped higher as Bitcoin, Ethereum, and XRP have entered a short-term consolidation pattern.
As reported by NewsBTC, Chainlink (LINK) posted a 40% one-day performance at one point in the past 24 hours. Countless other altcoins, even other large-caps, posted similarly as impressive performances.
XRP, as aforementioned, did not participate in this rally. According to Coin Market Cap data, the third-largest cryptocurrency has gained a mere 0.40%, underperforming Bitcoin's 1.2% performance.
Analysts think the asset will soon rip higher, though.
Related Reading: Crypto Tidbits: Bitcoin Explodes Past $11k, Ethereum 2.0 Nears, Cardano's Shelley Launches
XRP Could Soon Rip Towards $0.40 
XRP could soon erupt higher to $0.40 once it consolidates around the pivotal $0.30 horizontal for a number of weeks, according to a cryptocurrency trader. He shared the chart below on August 8th sharing this sentiment. It shows that the leading cryptocurrency is likely to consolidate above the $0.27-0.285 support band before "expansion" to the aforementioned target, 33% above the current price.
Chart of XRP's price aciton over the past year or so with analysis by trader Credible Crypto (@CredibleCrypto on Twitter). Chart from TradingView.com
The aforementioned trader isn't the only one thinking that XRP could soon rip higher.
As reported by NewsBTC, one trader noted that XRP breaking above the $0.321 resistance on a weekly scale could trigger a massive move higher. The trader specifically remarked that a 45.6% move could transpire that takes the asset to $0.468.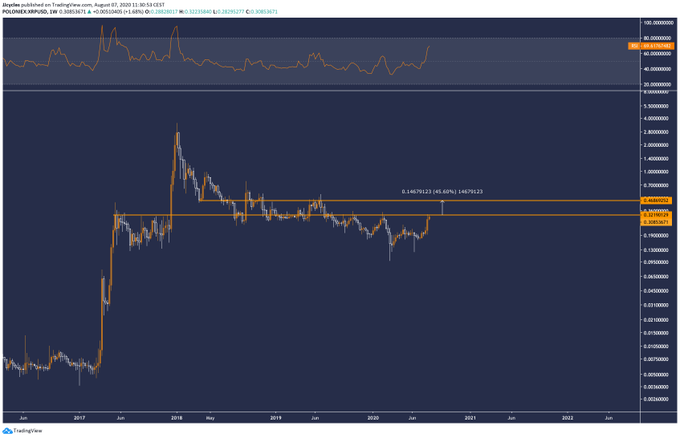 Chart of XRP's macro price action since the middle of 2016 by crypto trader "JJCycles" (@JJCycles on Twitter). Chart from TradingView.com
Related Reading: How U.S. Restrictions on Wechat & Other Chinese Brands Could Boost Crypto
All Eyes on Bitcoin
Bitcoin is likely to dictate XRP's price action moving forward.
Fortunately for bulls of the altcoin, analysts are optimistic about BTC's prospects. As reported by NewsBTC previously, data shared by a trader indicates that the funding rates of Bitcoin perpetual futures have returned to "neutral" after spiking last week. This indicates that shorts nor longs are currently overleveraged, giving the asset fuel to spike higher.
Matt Maley, the chief market strategist for Miller Tabak + Co, also told Bloomberg that Bitcoin's chart suggests more upside is possible:
"The break above $10,000 is very compelling and should lead Bitcoin higher… It might be able to work off this condition with a sideways correction, but its upside potential is limited over the next week or two."
Where the leading cryptocurrency rallies towards, though, is not yet clear.
Related Reading: Crypto Tidbits: Goldman Stablecoin, Dave Portnoy Wants Bitcoin, DeFi Boom
Featured Image from Shutterstock
Price tags: xrpusd, xrpbtc
Charts from TradingView.com
XRP Price Could Soon Rally 30% Towards $0.40 After Parabolic Surge