By Dmitriy Gurkovskiy, Chief Analyst at RoboForex
The XRP rate kept falling for two days, bringing the price of the cryptocurrency to the lowest low since July 28th. On Tuesday, September 22nd, the sales have paused, and the XRP is consolidating at around 0.2347 USD.
Technically, the D1 of the Ripple has not changed much: the asset is correcting an uptrend. The pair keeps trading near 50.0% Fibo, which means it might be accumulating power for breaking away the support level. If the XRP steps over 50.0%, it will proceed to 38.2% Fibo and the lower border of the ascending channel. On the MACD2, there is a complete Black Cross that promises further correction. The histogram is still below zero. All these signals promise further correction with the aim of 0.2040 USD.
On H4, the picture is similar: the quotations keep correcting inside the ascending channel. The aim of the uptrend is the same as on D1 – 0.3010 USD. The Ripple is, again, trading near50.0% Fibo; a breakaway of this level will forecast further correction to 38.2% Fibo. The Stochastic has formed a Black Cross in the overbought area, hinting on the possibility of further correction. The current scenario still presumes a pullback to 0.2040 USD, a bounce off it, and the development of the uptrend. However, before breaking away 50.0%, the quotations may rise to 61.8% Fibo.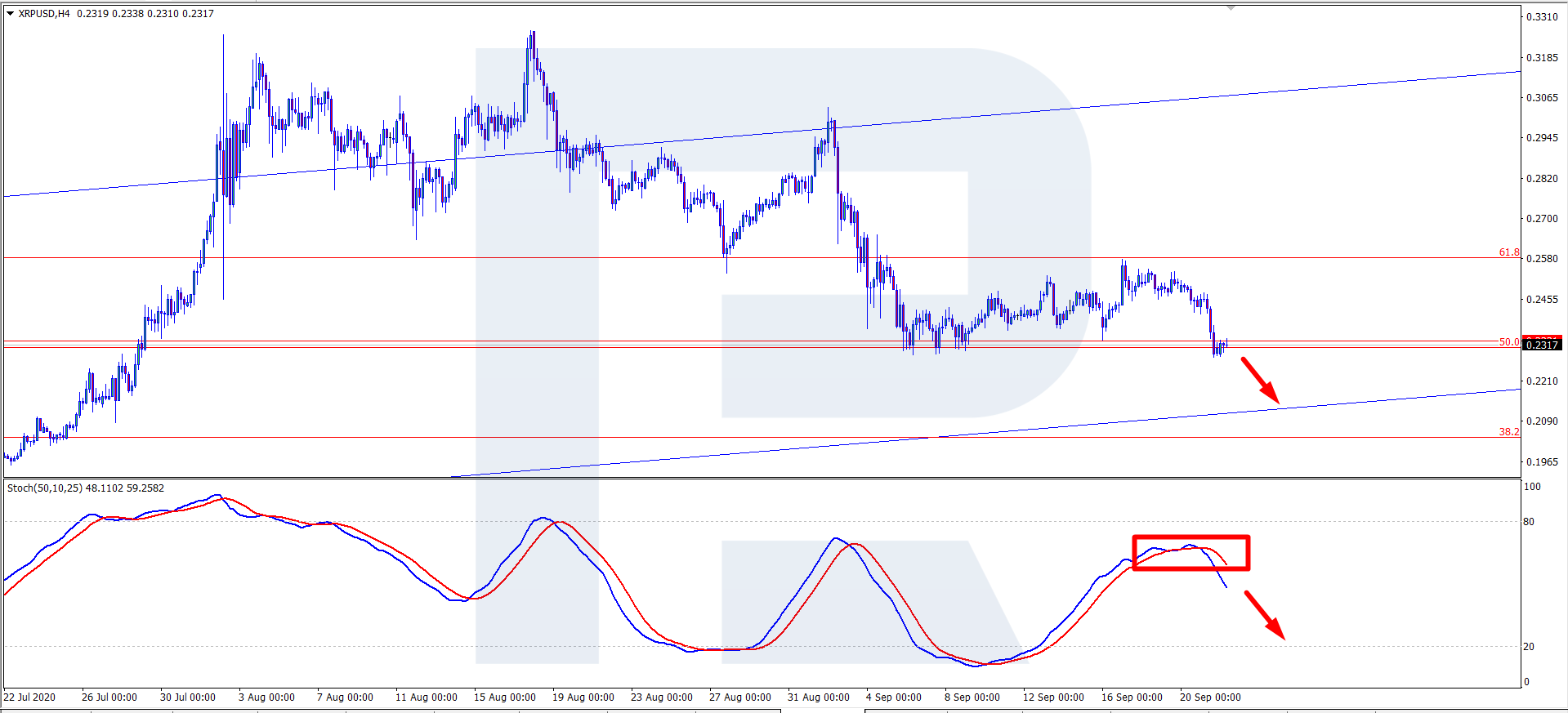 According to the freshest news, the co-founder and ex-director technical of Ripple Jed McCaleb sold another tranche of the XRP he owned. Based on the market estimate of the asset price, we may suppose that he will receive some 3.0 million USD, selling 11.4 million XRP.
In the market, they say that the co-founders of the company, selling the asset so frequently, may create a long-term bearish pressure on the XRP rate. Meanwhile, the indices representing the parameters of cryptocurrencies demonstrate that the XRP liquidity has long remained below its highs.
Last week, there was another major transaction of the XRP. Then the Coinbase Pro exchange relocated 10.0 million XRP to increase liquidity. The sum of the relocation in the USD is about 2.5 million. Normally, such market movements do not change the situation at its roots but create a certain illusion of volatility and might attract new investors. This must have been the idea of Coinbase Pro.
Disclaimer
Any predictions contained herein are based on the author's particular opinion. This analysis shall not be treated as trading advice. RoboForex shall not be held liable for the results of the trades arising from relying upon trading recommendations and reviews contained herein.
© 2020 CryptoDaily All Rights Reserved. This article is provided for informational purposes only. It is not offered or intended to be used as legal, tax, investment, financial, or other advice.